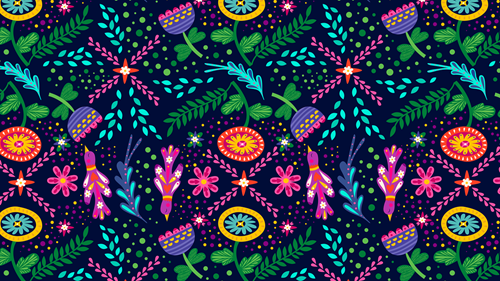 Textiles are one of the most important aspects of interior design—a true decorating fundamental that interior designers use to pull a room together. These things are often overlooked in favor of stylish trim, on-trend paint shades and well-chosen furniture, which are all necessary parts of the design equation. But without the right fabrics and wallpapers to unite the room, the design might fall flat.
Here are three ways interior designers use prints and patterns to create a cohesive look!
Match Your Patterns
If you're thinking about going bold with a lot of patterning in a room, then the best way to do it is to choose matching patterns. They don't need to be identical to each other, but they should be similarly themed. If you choose geometric patterns, for instance, make sure that all the patterns within the space feature a geometric style. Introduce geometrics with throw pillows, rugs, framed art, curtains or other elements. Three elements are typically enough to give the look unity without making it too overwhelming.
Make Colors Match
Maybe you'd rather avoid matching patterns because you'd like to mix tulle upholstery with floral curtains and a wallpaper border along the ceiling in a third pattern. How to go about harmonizing this type of look? Do it through the colors. Choose a color and shade commonality between each of your patterns—orange, green or some other group of hues. Make sure each pattern within the room contains this shade so that the room looks polished and well-thought rather than haphazard.
Make a Statement With a Single Bold Pattern
Sometimes just a single pattern is enough to make a statement—especially if you're going for a more elegant look that doesn't mix a lot of colors or patterns. This is the time to focus on a single bold pattern for the room. There are several ways to do this.
Use a patterned rug as a bold focal point to draw attention to the center of the room.

Flooring can also be patterned. Try checkered tile, parquet floors or some other design to ground the room.

Save patterns for the curtains while keeping the rest of the room simple.

Add a sense of height and drama with patterned ceilings. Ceilings can be coffered, textured or covered with wallpaper.

Hang a large piece of art to create a bold focal point.
Wherever you choose to introduce this single statement piece, keep in mind that against simpler surroundings, this is the piece that will draw the eye. Choose placement carefully to create a focal point exactly where you want it.
When you know all the tricks that designers use, it's easy to give your space a high-end look with carefully chosen patterns. While you can introduce them through architectural elements like flooring and ceilings, fabrics and other textiles are one of the best ways to get the look because they're easily interchangeable as tastes and trends change.